Finally the results from the game voting is now visible on our game page.
I'm quite happy because…
– it took so long to get them and I'm glad I received them now 😉
– they are fine from my point of view (And I guess someone has killed our statistics because we have 27 reviews and one gave 0 points in all sections)
– It's the first Ludum Dare with results for me.
Even more important are the comments we got. I guess they will help us to improve and set new focus on the next game jam.
All the results can be found here…
https://ldjam.com/events/ludum-dare/38/games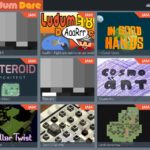 In category "Theme" we reached place number 38
In category "Humor" we reached place number 49
I guess we had to less votes / reviews to get higher ranks. (Note for me… Next time – comment and review more games
We participated in the Jam – Maybe next time in Compo?)
Ok – its a good result 😉 at least if I compare it to more than 2900 games in the competition. I have not looked up the other categories since we got average ratings.
Article about the Ludum Dare.
I wrote an article for the Heise C't magazine. Title "15 years of Ludum Dare…" But due to the chaotic Jam organisation and the postponed dates + now holidays on Heise side I'm not sure if this will make it in the magazine or on the website. (BTW. I asked Heise red. if they create an article and then I was asked to write something because they are interested in some insides…)